Written by sbdadmin on March 31, 2020
Billie Eilish Soothes Puppies to Sleep While Singing "Everything I Wanted" at Home
Latest News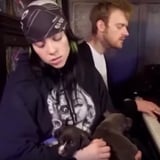 I know Billie Eilish's voice is soothing, but on March 30 I learned it's a "sing puppies to sleep" level of relaxing. The singer and her brother, Finneas O'Connell, made a virtual appearance on The Late Late Show's HomeFest on Monday night to perform "Everything I Wanted" for James Corden's audience.
Related:
Billie Eilish Surprises a Fan After Hearing Her Emotional Story, and It's Beyond Heartwarming
Although the performance took place in the privacy of their home, the brother-sister duo were joined by some very special guests: a couple of tiny puppies! The pups stayed cozy and close to Eilish throughout the performance and seemed at peace while she sang. Can you blame them? Watch the full video above to see the cuteness go down, and catch up on Eilish's living room version of "Bad Guy" from Sunday night.
Related