Written by sbdadmin on February 8, 2020
Calling All Peter Kavinksy Fans: Hasbro Created a To All the Boys I've Loved Before Game!
Latest News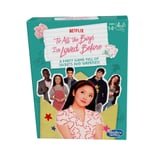 Feeling overwhelmed with excitement for To All the Boys: P.S. I Still Love You to hit Netflix on Feb. 12? Ugh, same here, and now we have another reason to be psyched: Hasbro teamed up with Netflix to create a party game inspired by the highly anticipated To All the Boys I've Loved Before sequel! POPSUGAR has the exclusive scoop on the upcoming release, and it sounds like a must-have addition for any sleepover or get-together with your friends.
Here's how the game works. Anywhere from two to four people can play, and each person draws three different types of cards: Would You Rather, The Truth Hurts, and Return to Sender. Players secretly jot down their responses on pieces of note paper and place them in Lara Jean's Box of Secrets. As Hasbro's official description reads, "Throughout the game, secrets will be revealed and players will have to make humorous (but difficult) choices about other players to collect personality tokens." Inspired by different personality traits, these tokens are key, seeing as whoever collects six of 'em first wins the game and gets to take a quiz to see which movie character they most closely resemble IRL.
Hasbro's To All the Boys I've Loved Before party game is now available for $20 on Amazon, so assemble your squad and get ready to play!
Related