Written by sbdadmin on October 1, 2020
Grab a Bucket of Candy, Because Freeform's 31 Nights of Halloween Schedule Is Here!
Latest News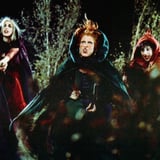 Get ready to light a fall-scented candle and curl up with a bucket of candy, because Freeform's 31 Nights of Halloween schedule is officially here. The marathon, which kicks off on Oct. 1, features spooky classics like Casper, Hocus Pocus, and Beetlejuice, but it also includes a handful of nostalgic gems for those that are scared easily, including Disney Channel original movies like Twitches and Halloweentown. Needless to say, you'll find us in front of our TV screens this October. See the full list ahead.
Thursday, Oct. 1
12:30 p.m. – Willy Wonka & the Chocolate Factory
3:00 p.m. – Tim Burton's Corpse Bride
5:00 p.m. – Casper (1995)
7:00 p.m. – Hotel Transylvania
9:00 p.m. – Hocus Pocus
12:00 a.m. – Willy Wonka & the Chocolate Factory
Friday, Oct. 2
11:00 a.m. – The Goonies
1:30 p.m. – Tim Burton's Corpse Bride
3:05 p.m. – Casper (1995)
5:10 p.m. – Hotel Transylvania
7:15 p.m. – Tim Burton's The Nightmare Before Christmas
8:55 p.m. – Beetlejuice
12:00 a.m. – The Simpsons, "Treehouse of Horror"
Saturday, Oct. 3
7:00 a.m. – Monsters vs. Aliens: Mutant Pumpkins
7:30 a.m. – The Goonies
10:00 a.m. – Ghostbusters (1984)
12:30 p.m. – Ghostbusters II
3:05 p.m. – Beetlejuice
5:10 p.m. – Hocus Pocus
7:20 p.m. – The Addams Family (1991)
9:25 p.m. – Addams Family Values
11:30 p.m. – The Craft
Sunday, Oct. 4
7:00 a.m. – Ghostbusters (1984)
9:30 a.m. – Ghostbusters II
12:00 p.m. – Willy Wonka & the Chocolate Factory
2:05 p.m. – Decorating Disney: Halloween Magic
3:05 p.m. – Casper (1995)
5:10 p.m. – The Addams Family (1991)
7:15 p.m. – Addams Family Values
9:20 p.m. – Hocus Pocus
11:30 p.m. – Sleepy Hollow (1999)
Monday, Oct. 5
11:30 a.m. – Casper (1995)
1:30 p.m. – Sleepy Hollow (1999)
4:00 p.m. – Ghostbusters (1984)
6:30 p.m. – Ghostbusters II
9:00 p.m. – Beetlejuice
12:00 a.m. – Boxtrolls
Tuesday, Oct. 6
11:00 a.m. – Charlie and the Chocolate Factory
1:30 p.m. – Ghostbusters (1984)
4:00 p.m. – Ghostbusters II
6:30 p.m. – Beetlejuice
8:30 p.m. – Hotel Transylvania
12:00 a.m. – Tim Burton's Corpse Bride
Wednesday, Oct. 7
11:00 a.m. – Decorating Disney: Halloween Magic
12:00 p.m. – Tim Burton's Corpse Bride
2:00 p.m. – Matilda
4:00 p.m. – Hotel Transylvania
6:00 p.m. – The Simpsons, "Treehouse of Horror"
12:00 a.m. – Jumanji (1995)
Thursday, Oct. 8
12:00 p.m. – Matilda
2:00 p.m. – Jumanji (1995)
4:30 p.m. – Goosebumps (2015)
7:00 p.m. – The Addams Family (1991)
9:00 p.m. – Addams Family Values
12:00 a.m. – Warm Bodies
Friday, Oct. 9
11:30 a.m. – The Mummy (1999)
2:20 p.m. – Goosebumps (2015)
4:45 p.m. – The Addams Family (1991)
6:50 p.m. – Addams Family Values
8:55 p.m. – Hocus Pocus
12:00 a.m. – The Simpsons, "Treehouse of Horror"
Saturday, Oct. 10
7:00 a.m. – The Mummy (1999)
10:00 a.m. – The Mummy Returns
1:05 p.m. – The Simpsons, "Treehouse of Horror"
3:35 p.m. – Casper (1995)
5:40 p.m. – Hotel Transylvania
7:45 p.m. – Hotel Transylvania 2
9:50 p.m. – Hotel Transylvania 3: Summer Vacation
12:00 a.m. – Tim Burton's Corpse Bride
Sunday, Oct. 11
7:00 a.m. – The Mummy Returns
10:05 a.m. – Casper (1995)
12:10 p.m. – Tim Burton's Corpse Bride
1:50 p.m. – Tim Burton's The Nightmare Before Christmas
3:30 p.m. – Hotel Transylvania
5:35 p.m. – Hotel Transylvania 2
7:40 p.m. – Hotel Transylvania 3: Summer Vacation
9:50 p.m. – Twitches
11:55 p.m. – Twitches Too
Monday, Oct. 12
7:00 a.m. – The Mummy: Tomb of the Dragon Emperor
12:30 p.m. – Halloweentown
2:30 p.m. – Halloweentown II: Kalabar's Revenge
4:30 p.m. – Scared Shrekless
5:00 p.m. – Shrek
7:00 p.m. – The Addams Family (1991)
9:00 p.m. – Addams Family Values
12:00 a.m. – The Scorpion King
Tuesday, Oct. 13
11:00 a.m. – The Goonies
1:35 p.m. – Scared Shrekless
2:05 p.m. – Shrek
4:10 p.m. – The Addams Family (1991)
6:15 p.m. – Addams Family Values
8:20 p.m. – Hocus Pocus
12:00 a.m. – Casper (1995)
Wednesday, Oct. 14
1:00 p.m. – Casper (1995)
3:00 p.m. – The Simpsons, "Treehouse of Horror"
9:00 p.m. – Beetlejuice
12:00 a.m. – Boxtrolls
Thursday, Oct. 15
7:00 a.m. – Scream 3
11:00 a.m. – Jumanji (1995)
1:30 p.m. – Beetlejuice
3:30 p.m. – Scream
6:00 p.m. – Scream 2
8:30 p.m. – The Craft
12:00 a.m. – Jumanji (1995)
Friday, Oct. 16
11:30 a.m. – The Craft
2:00 p.m. – Matilda
4:00 p.m. – Tim Burton's Corpse Bride
6:00 p.m. – Toy Story of TERROR!
6:30 p.m. – Monsters, Inc.
8:30 p.m. – Monsters, University
12:00 a.m. – Toy Story of TERROR!
12:30 a.m. – The Simpsons, "Treehouse of Horror"
Saturday, Oct. 17
7:00 a.m. – Tim Burton's Corpse Bride
8:55 a.m. – Matilda
10:55 a.m. – Tim Burton's The Nightmare Before Christmas
12:35 p.m. – Ghostbusters (1984)
3:05 p.m. – Ghostbusters II
5:40 p.m. – Beetlejuice
7:45 p.m. – Hocus Pocus
9:55 p.m. – Halloweentown
12:00 a.m. – Halloweentown II: Kalabar's Revenge
Sunday, Oct. 18
7:00 a.m. – Willy Wonka & the Chocolate Factory
9:30 a.m. – The Simpsons, "Treehouse of Horror"
11:00 a.m. – Twitches
1:05 p.m. – Twitches Too
3:05 p.m. – Beetlejuice
5:10 p.m. – Hocus Pocus
7:20 p.m. – The Addams Family (1991)
9:25 p.m. – Addams Family Values
11:30 p.m. – Gremlins
Monday, Oct. 19
11:00 a.m. – Matilda
1:00 p.m. – Gremlins
3:30 p.m. – Casper (1995)
5:30 p.m. – The Addams Family (1991)
7:30 p.m. – Addams Family Values
9:30 p.m. – Tim Burton's The Nightmare Before Christmas
12:00 a.m. – Matilda
Tuesday, Oct. 20
11:00 a.m. – Willy Wonka & the Chocolate Factory
1:00 p.m. – Casper (1995)
3:00 p.m. – Sleepy Hollow (1999)
5:30 p.m. – Ghostbusters (1984)
8:00 p.m. – Ghostbusters II
12:00 a.m. – Willy Wonka & the Chocolate Factory
Wednesday, Oct. 21
11:00 a.m. – Sleepy Hollow (1999)
1:30 p.m. – Ghostbusters (1984)
4:00 p.m. – Ghostbuster II
6:30 p.m. – The Simpsons, "Treehouse of Horror"
12:00 a.m. – The Simpsons, "Treehouse of Horror"
Thursday, Oct. 22
11:00 a.m. – Tim Burton's Corpse Bride
12:35 p.m. – Jumanji (1995)
2:35 p.m. – The Mummy (1999)
5:45 p.m. – The Mummy Returns
8:55 p.m. – Hocus Pocus
12:00 a.m. – Tim Burton's Corpse Bride
Friday, Oct. 23
11:00 a.m. – Jumanji (1995)
1:30 p.m. – Scream
4:00 p.m. – Scream 2
6:30 p.m. – Beetlejuice
8:30 p.m. – Sleepy Hollow (1999)
12:00 a.m. – The Simpsons, "Treehouse of Horror"
Saturday, Oct. 24
7:00 a.m. – Decorating Disney: Halloween Magic
8:00 a.m. – Halloweentown
10:05 a.m. – Halloweentown II: Kalabar's Revenge
12:05 p.m. – Beetlejuice
2:10 p.m. – Sleepy Hollow (1999)
4:40 p.m. – Hocus Pocus
6:50 p.m. – The Addams Family (1991)
8:55 p.m. – Addams Family Values
11:00 p.m. – Ghostbusters (2016)
Sunday, Oct. 25
7:00 a.m. – Tim Burton's Corpse Bride
9:00 a.m. – Ghostbusters (1984)
11:30 a.m. – The Craft
2:00 p.m. – The Addams Family (1991)
4:05 p.m. – Addams Family Values
6:10 p.m. – Ghostbusters (2016)
9:20 p.m. – Hocus Pocus
11:30 p.m. – The Craft
Monday, Oct. 26
11:00 a.m. – Tim Burton's Corpse Bride
1:00 p.m. – Casper (1995)
3:00 p.m. – Twitches
5:00 p.m. – Twitches Too
7:00 p.m. – Hotel Transylvania 2
9:00 p.m. – Hotel Transylvania 3: Summer Vacation
12:00 a.m. – The Simpsons, "Treehouse of Horror"
Tuesday, Oct. 27
11:00 a.m. – Casper (1995)
1:00 p.m. – Scared Shrekless
1:30 p.m. – Jumanji (1995)
4:00 p.m. – Hotel Transylvania 2
6:00 p.m. – Hotel Transylvania 3: Summer Vacation
8:00 p.m. – Hocus Pocus
12:00 a.m. – The Simpsons, "Treehouse of Horror"
Wednesday, Oct. 28
12:00 p.m. – Jumanji (1995)
2:30 p.m. – Tim Burton's Corpse Bride
4:30 p.m. – Matilda
6:30 p.m. – Monsters, Inc.
8:30 p.m. – Monsters University
12:00 a.m. – The Simpsons, "Treehouse of Horror"
Thursday, Oct. 29
12:00 p.m. – Ghostbusters (1984)
2:30 p.m. – Ghostbusters II
5:00 p.m. – Tim Burton's The Nightmare Before Christmas
6:30 p.m. – Sleepy Hollow (1999)
9:00 p.m. – Beetlejuice
12:00 a.m. – The Simpsons, "Treehouse of Horror"
Friday, Oct. 30
11:00 a.m. – Decorating Disney: Halloween Magic
12:05 p.m. – Sleepy Hollow (1999)
2:35 p.m. – Beetlejuice
4:40 p.m. – Hocus Pocus
6:50 p.m. – The Addams Family (1991)
8:55 p.m. – Addams Family Values
12:00 a.m. – The Simpsons, "Treehouse of Horror"
Saturday, Oct. 31
7:00 a.m. – Twitches
9:00 a.m. – Twitches Too
11:00 a.m. – Halloweentown
1:00 p.m. – Halloweentown II: Kalabar's Revenge
3:00 p.m. – Hocus Pocus
5:10 p.m. – The Addams Family (1991)
7:15 p.m. – Addams Family Values
9:20 p.m. – Hocus Pocus
11:30 p.m. – Ghostbusters (1984)
Related