Written by sbdadmin on September 2, 2019
If You Miss Glee, You Need to Watch This Choir's Emotional Cover of a Carrie Underwood Song
Latest News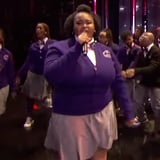 The Golden Buzzer-winning Detroit Youth Choir returned to the America's Got Talent stage to belt out a rendition of Carrie Underwood's "Champion," and needless to say, it was inspiring as hell. The young group of talented singers previously wowed the judges (and host Terry Crews) with a one-of-a-kind take on Macklemore and Ryan Lewis's "Can't Hold Us," and this performance was just as electric.
Season 14 of the show has seen a ton of incredible young singers giving the competition their all. Emanne Beasha, 10, is a full-blown opera prodigy, while Benicio Bryant, 14, consistently stuns the audience with his original songs. And let's not forget 12-year-old Broadway hopeful Luke Islam or 11-year-old violinist Tyler Butler-Figueroa! We can see Tonys and Grammys in all of their futures.
Watch the Detroit Youth Choir do their thing above, then check out all the other emotional moments that have gone down this season on America's Got Talent.
Related