Written by sbdadmin on June 26, 2020
Katy Perry Sings Mashup of "Peacock," "Daisies," and More For iHeartRadio's Pride Event
Latest News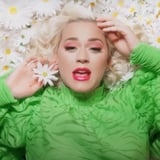 Katy Perry pulled out all the stops for iHeartRadio's "Can't Cancel Pride" event on Thursday night. The singer and mom-to-be performed an upbeat medley of her hits during the virtual Pride celebration and COVID-19 relief benefit. She began by singing a dance-y remix of her latest track, "Daisies," while laying in a pile of the flowers, before transitioning into a mashup of two throwbacks: "I Kissed a Girl" and "Peacock." But she didn't stop there! Katy also squeezed in a few verses of "Walking on Air" and "Swish Swish" before looping back and finishing up with "Daisies."
A few hours before the iHeartRadio event kicked off, Katy teased her performance on Instagram and Twitter, captioning a clip: "Lots of things are being cancelled (rightfully so, trust!) but you #CANTCANCELPRIDE and not only that but you can't cancel dance remixes with some of ya fav songs." Laverne Cox and Elvis Duran hosted the live-streamed celebration, which fundraised for LGBTQ+ organizations like GLAAD, SAGE, National Black Justice Coalition, The Trevor Project, and OutRight Action International.
Related:
Katy Perry Surprised an 8-Year-Old as Her Substitute Teacher, and We Don't Know Who Had More Fun
Fast-forward to around the 25:13 timestamp on the video above to watch Katy's entire #TBT-worthy performance, and check out the rest of the stream to see appearances by Billy Porter, Kim Petras, Adam Lambert, Ben Platt, and more.
Related