Written by sbdadmin on June 27, 2020
Netflix Made a Deal With the Devil and Renewed Lucifer For a Sixth and "Final, FINAL" Season
Latest News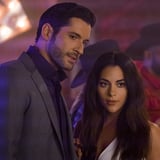 We know we've said this before, but this time we mean it: Netflix has renewed Lucifer for its final season. A day after announcing the release date for part one of the upcoming fifth season (which was previously advertised as the last season), the streamer announced on Tuesday, June 23, that the series will be returning for a sixth and "final, FINAL" run.
the devil made us do it. 😈 #lucifer will return for a sixth and final season. like, FINAL final. pic.twitter.com/o27z6ToMaV

– Lucifer (@LuciferNetflix) June 23, 2020
The news isn't too much of a surprise since leading man Tom Ellis formally signed a "potential" sixth season deal back in May, after a months-long standoff. So it's safe to assume that the highly anticipated fifth season was finished with the possibility of a return in mind. There will be no unresolved cliffhangers in our futures!
The series was revived by Netflix in June 2018, after being canceled by Fox. Fans began a #SaveLucifer campaign that resulted in a 10-episode fourth season premiering on Netflix in May 2019. It was shortly renewed for its fifth season after the premiere, which was subsequently revealed to be a two-parter. The season went from 10 episodes to 16, with the first eight due to premiere on Aug. 21 and the second half dropping at a currently unannounced date. Those latter eight episodes will set fans up for the official final season, which as of now, has no release date. Since most productions have been delayed by the COVID-19 pandemic, it's safe to say that work on season six will be a ways off. Still, we can firmly count this as a win for the "Lucifans!"
Related