Written by sbdadmin on January 19, 2020
Punky Power Forever! Punky Brewster Sequel Gets Official Series Order
Latest News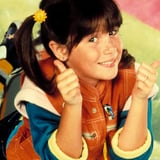 Another TV classic is getting a refresh! NBC's streaming service, Peacock, has officially given a series order for the sequel to '80s NBC sitcom Punky Brewster. Soleil Moon Frye will reprise her original role as the titular Punky along with Cherie Johnson, who will return as Punky's best friend.
According to Deadline, the series will be in the same vein as Disney Channel's Girl Meets World and Netflix's Fuller House, following an all-grown-up Punky as a single mother of three "trying to get her life back on track when she meets a young girl (Quinn Copeland) who reminds her a lot of her younger self."
The original Punky Brewster – created by David W. Duclon – chronicles the trials and tribulations of a young girl raised by her foster dad, played by George Gaynes. It ran on NBC for four seasons, earning a few Emmy nominations, and spawned a two-season animated spinoff, It's Punky Brewster, which also starred Frye. Copeland (Waitress the Musical), Lauren Donzis (No Good Nick), Oliver De Los Santos (Occupation: Rainfall), and Noah Cottrell (Skyscraper) flesh out the rest of the show's cast, with Freddie Prinze Jr. guest-starring in the pilot as Punky's ex-husband. Fingers crossed he'll make a few more appearances in the full season!
"I'm grateful to our NBCUniversal Content Studios and Peacock family and to our incredible team of creators, writers, producers, cast, and crew that have put their hearts into this journey every step of the way," Frye said in a statement. "It is with great love for the amazing people who were such a pivotal part of creating the Punky magic that I will do my very best to honor their memory as we once again share Punky with the people that love her and a new generation discovering her for the first time. Punky Power forever!"
Punky Brewster is set to premiere when the service launches later this year. Here's hoping the new series will nix any refrigerator danger episodes. We've been traumatized enough!
Related