Written by sbdadmin on September 30, 2019
Servant: M. Night Shyamalan's New Horror Series For Apple TV Sounds Downright Chilling
Latest News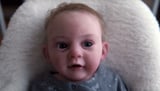 M. Night Shyamalan is back with another chilling story – are you ready?
The horror auteur has teamed up with Apple TV+ for a new series, Servant, which is being billed as a psychological thriller. According to the network, the show will follow a Philadelphia couple "in mourning after an unspeakable tragedy creates a rift in their marriage and opens the door for a mysterious force to enter their home." Uh-oh.
The first teasers for the series – which you can watch at the end of this post – aired during the Emmys. One shows a baby swing in a seemingly nice, normal living room, aimed at a TV newscast. The swing is seen rocking back and forth, and when the camera swings around to show what's sitting in said swing, it's not a baby – it's a baby doll. (Do we have another Annabelle on our hands, or what?) The second involves a very ominous cricket. (Yes, a cricket.)
The show is set to premiere on Nov. 1 and has quite the cast: Tony Kebbell (Fantastic Four), Lauren Ambrose (Six Feet Under), Nell Tiger Free (Game of Thrones), and Rupert Grint (Snatch). Further details about Servant (like if Shyamalan will make one of his trademark cameos) will be revealed during the show's panel at New York Comic-Con, which will include exclusive first-look footage and a discussion with Shyamalan.
Related