Written by sbdadmin on December 21, 2019
Star Wars Doesn't Usually Have End-Credit Scenes, But Does This Apply to Rise of Skywalker?
Latest News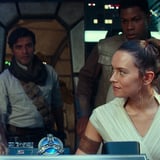 At this point, we pretty much expect blockbuster movies to have end-credits scenes, so it's understandable that audiences might wonder if there's an end-credits scene in Star Wars: The Rise of Skywalker. If you're ready to stretch your legs by the end of the movie, there's good news: there's no end-credits scene to wait for!
In some ways, this isn't really that surprising. The dominance of Marvel movies this decade – and their penchant for using end-credits scenes to actually advance the plot or tease new characters, rather than just add fun easter eggs – has wired us to expect all major franchise movies to do the same. In reality, none of the Star Wars movies have had post-credits scenes. It's still worth sitting through the end credits, though, at least for a little while – it lets the theater clear out a bit (and the restroom lines go down), and you can listen to the classic soundtrack, let your tears dry if you got a little choked up, and catch all the credits of the people who worked hard to make the movie happen.
Even if Star Wars were one of the franchises that typically had post-credits scenes, it would make sense that there's not one after The Rise of Skywalker. It's been confirmed that this is the final film in the mainstream "Skywalker saga" movie series, and there aren't currently any major anthology films in the pipeline. Instead, the focus is shifting to TV, where Disney+ will soon be home to several shows (starring existing characters such as Obi-Wan Kenobi and Cassian Andor) set in the years not seen on-screen, mostly during the Imperial era – that is, between Revenge of the Sith and A New Hope. Since end credit scenes are usually geared at teasing what comes next for a series, it makes sense that a last film wouldn't have one, much like Avengers: Endgame didn't have one. Fortunately, there will still be plenty of Star Wars content in the future, just not on the big screen for a while.
Related