Written by sbdadmin on October 5, 2019
The Politician Is Just the Latest in a Series of Shows About This Disturbing Syndrome
Latest News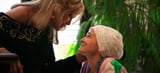 Sweet mothers scamming the world? It's not a new idea, but the storyline is certainly having an onscreen moment. From Patricia Clarkson's doting Adora Preaker on Sharp Objects to Patricia Arquette's manipulative Dee Dee Blanchard on The Act, Munchausen syndrome by proxy has been a terrifying point of interest in pop culture recently. It rears its twisted head again with Jessica Lange's campy Dusty Jackson in The Politician, the new Ryan Murphy-helmed Netflix series.
MSBP is when a caregiver fakes or causes the physical or mental symptoms of a healthy individual under their care, usually a child, to gain sympathy and special attention. The mental disorder – and form of abuse – has long intrigued many Hollywood creatives on the troubling psychology of why a person would hurt a loved one. If you're convinced you've been seeing this dynamic onscreen more and more lately, scroll ahead for all the movies and shows that have depicted Munchausen syndrome by proxy.
Warning: The following post contains plot spoilers for various movies and shows!
Related